Part name: Rehaut (flange)

Early time reference sample picture to start with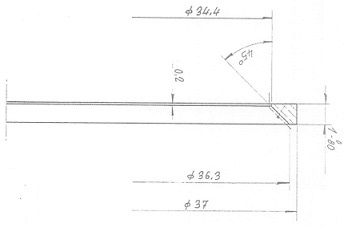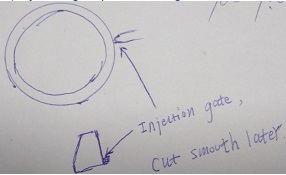 Applaction: measuring instrument
In material: PP
Color: white
*Slop surface should be clean
whole part with no burrs
*General Radius on edges 0.1+/-0.05
(no Radius at end edges of dimensions 0.2 and 0.35, too narrow to allow it.)
*Without oxidation on steel
*Tolerance control for outer circle: +/-0.1
Plastic injection tooling: 1 x 8 cavities (9th Oct., 2018)
*Dimension 1.8 change to: 0.92 ~ 1.0
Using 1.0 standard for tooling work
In proportion, dimension

ø

34.4 change to: 34.7 ~ 34.86
*Tolerance for other dimensions(Cotes sans tolerance): +/-0.1mm
Probably, weld line which opposite to injection gate is easily broken, slag well feature is planned at weld line position to improve this defect. cutting slag well smooth later. (11th Oct., 2018)

Good samples available from tooling test(16th Nov.,2018), all dimensions are measured well. slag well feature in tooling is not applied, air vening grooves are helpful, no breakable trace found at forecasted position.
Customer comments:'All is ok but NOT THE COLOR, We need WHITE one' -27th Nov.2018
*plastics with light specific gravity and relatively low surface hardness such as PP, PE are called soft plastics. While plastics such as PS, ABS, AS, and rigid PVC are called hard ones. Usually, different pigments are applied to soft and hard kinds.
Second time bright white color samples -30th Nov. 2018