*Part name: Inside parts for non-contact temperature measuring device
*In material: POM
*Color does not matter.
*Plastic parts have good sliding property, they need to work in nearly 100° C environment.
*Cavity number marked in small dot(1,2 3 & 4pcs), they can be at ejector pin mark positions(1R009), ejector pin marks should be at minimal depth
*In assembly unit, a metal part slides along slot in the middle section of part 1R009, two sides' surface of slot need be polished.
*Size: 1R009(approx.) 9.4x3.98x1.28mm 1R024(approx.) 6.62x5x8mm
*Tooling(mold) cavities: 1x4+1x4
***What customer comments 18th May, 2017 : "Nice to see first shot parts! Thanks a lot for being in schedule with the tool manufacturing, okay, pls add plastic if necessary....The ribs are so thin by design to let them act as springs a bit. Hope this idea will still be alive after the modification, the 1.8mm total thickness of the part has to......"
15th Jul., 2017 : ) "...So I think it should be possible to release this tool soon after small improvements to better avoid burrs..."
11th Oct. 2017: " I got both mails and We will order the first MOQ within the next days..."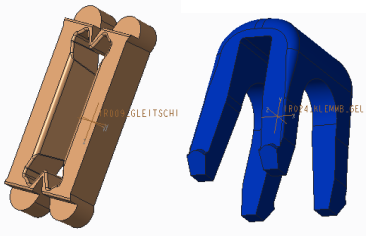 Cavity side & core side / Front & back tooling bases
Above tooling photos taken on 11th May, 2017