*Part Name: Silicone Rubber Sealing part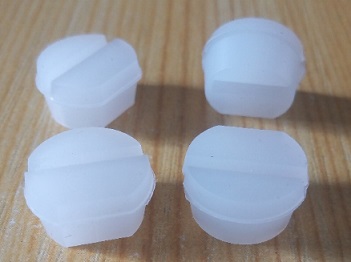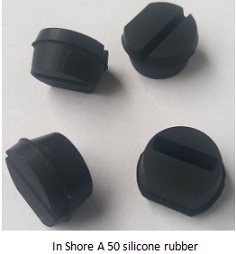 *In material: Shore A 10 or 20 solid silicone rubber
*Natural color - translucent (half transparent)
*Special note for application: A PCB with additional 1mm height components should be slide through the slot of part, this part should be in relatively soft material
*Production process: compression molding
*Vulcanizing (moulding) time: 150 seconds
*Brass tooling:1x49 cavities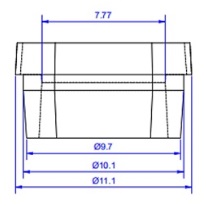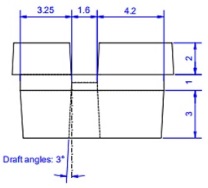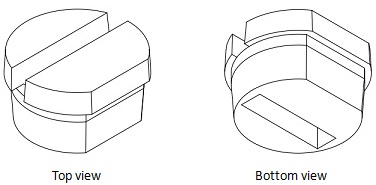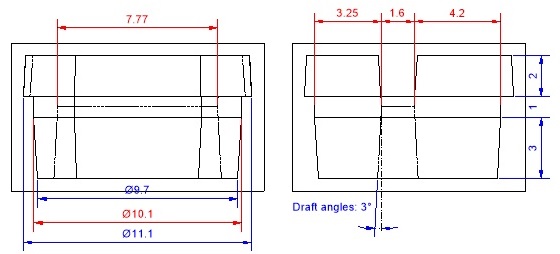 *2nd Jul., 2019
Considering the soft and elastic character of Shore A10 ~15 silicone rubber, draft 3°is not realistic in tooling making and compression molding process, there is variation to this. Following dimensions are critical for sealing function and shouldn't be compromised on final part:
1) Minimum dimensions of central slot should not be MORE than 7.77 x 1.6 mm
2) Dimensions at the 1mm vertical section (without draft) should not be less than stated. (this point would be second in importance while it can't be taken care of)
*Tooling test (4th Jul., 2019)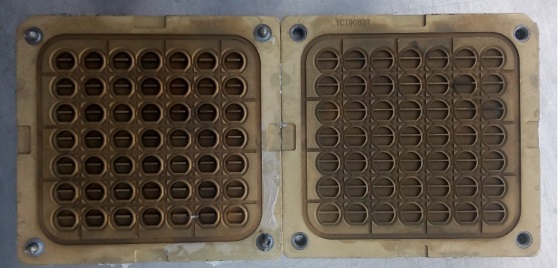 Customer comments to part samples (17th., Jul.):
1.) First impression of quality is good
2.) Fit well with other parts in assembly
3.) Functionality test follows, final result would probably be after summer vacation(5th., Aug.)
4.) (7th Aug. 2019) the parts were tested and seem to be working good. No differences between Shore 10 and Shore 15 were found. We would like to order a batch of xxxx pieces.
5.)(12th Aug., 2019) everyone is happy about functionality and design of this part. however, in order to ensure future reproducibility we would like to have the part in Shore 10.
*Proposal from production(26th Aug., 2019): silicone rubber material can't be too soft, proper hardness is necessary to maintaining mechanical structure for sealing function.