*Part name:CNC-turned and milled housing parts for moisture & air temperature sensor
*In material: White POM
*Application: a John Deere project
*One housing consists of one body tube and one cap
*Body tube with Pg7 thread head
*After milling processing, there is R0.5 / 1.0 at each corner of 6 openings(9x7) of tube body, rather than complete right-angle corner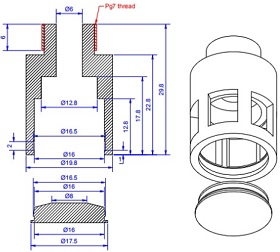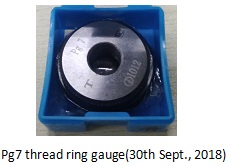 Thread inspection
*Go-gauge can be rotated freely at any position of external thread.
*One or two or three turns of No-go gauge (sometimes one or two more turns) on external thread, but end of thread doesn't stick out ring gauge end-face, gauge can't be rotated anymore.
*Then, pitch-diameter of tested external thread is just within tolerance range. Part is qualified.
Progress status(17th Oct., 2018):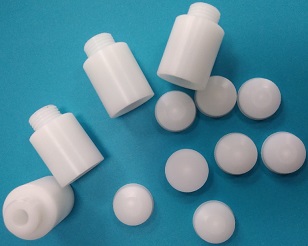 1)Body tube part finished with 2 lathing prcedures and 1 milling procedure, 1 milling procedure remained to go through for making 6 openings(9x7) of body side .
2)Cap part finished with 1 lathing procedure.
3)Dimensions fall into tolerances (DIN ISO 2768-1 fine) range.
Finished parts (24th Oct., 2018) :